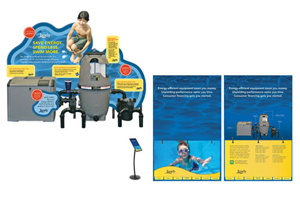 As a leading manufacturer of pool and spa equipment, Zodiac offers high quality, energy-efficient products under the Jandy, Baracuda, Nature2, Cover-Pools and Polaris brands. These products are sold through distribution to pool and spa builders and retailers. To overcome a challenging market where homeowner discretionary income was at a premium, Zodiac developed a suite of services to increase builder loyalty and set themselves apart from the competition. The suite of services included consumer financing programs, extended service agreements, business management software, and business savings programs. 
Flycatcher Marketing helped Zodiac launch this new initiative. We developed the marketing strategy, adapted the new offering with the corporate logo, program look and feel, message development, collateral materials, trade and banner ads, direct marketing (both physical and electronic), and POP – all successfully accomplished within a very short timeframe.
> Return to Project Profiles Page
If this kind of innovative, smart, and focused strategic marketing support sounds appealing to you, we should talk.
Just give us a call at 415.883.3664 or shoot us an email, and let's discuss what Flycatcher can do to help your business succeed.
From start to finish, Flycatcher Marketing emphasizes solid marketing strategy as the basis for innovative and responsive creative execution.
Thanks to years of real life and business management experience, we provide a hands-on approach with all our clients to ensure projects always meet or exceed client expectations.
* Set clear, measurable program/campaign objectives up front.
* Develop on-target marketing strategies to meet our clients' goals, and use these strategies as our "road maps" when developing creative.
* Approach each marketing challenge from a "tactically neutral" position.
* Analyze and use response data to improve marketing effectiveness.